Click edit button to change this text.
Get In Touch With Us Today About This Product!
*This Product Is Not Available For Online Purchase Please Contact Us To Order This Product
Model – TMBU-SC
Single Head Embroidery Machine
The Tajima TMBU-SC Model is a total All rounder in Every Sense ! It  has been specifically designed to accommodate bulky items like GOLF bags and Large  items that a standard embroidery machine cannot embroider.Then when required you can easily change over for Caps ,or standard embroidery,giving you total flexibility to do any work required!
Tajima TMBU-SC  Golf Bag & Large item Machine 
The Tajima TMBU-SC Model has been specifically designed to accommodate bulky items like GOLF bags and Large items that a Standard Embroidery Machine cannot embroider.Then when you have finished with the Large Bulky items you can easily change the Machine over to do your every day Embroidery!  It features a wider, deeper underneath which allows  for stowing portions of a product not being decorated. Straps attached to its cylindrical, tubular arms help secure items for embroidery, while allowing free motion. A pedal-adjustable work table provides additional support during sewing and takes weight off the hooping area.
Expansion of the Under Machine Space -The design provides an extra large space under the machine providing easy access for embroidering on large bags ,Golf Bags and more…
Hydraulic Step Pump For Lowering & Raising the Table –  The machine has a Hydraulic Foot Pump for raising and lowering the table easily for supporting the Extra large item you are embroidering.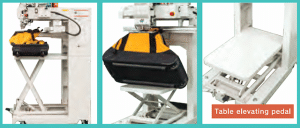 Cap Embroidery – The TMBU has been designed and Built with the Updated Cap frame 2  which increases efficiency,this new update allows the machine to run at 1000(rpm) where conventional types in the past have only been able to sew at 900(rpm) .It also provides a high and improved stitch quality. The Sewing Area on wide Cap Frame 75mm x 360mm
Standard Embroidery – The TMBU can be used as a Standard Embroidery Machine giving you a work area of 360 mm x500 mm with Tubular frames .
Digitally Controlled Presser  Foot- (DCP) The DCP system allows the pressoer foot heights to be adjusted on the operation panel.Fabric fluttering is eliminated ,quality is improved ,and thread breakage is reduced.It is perfect for 3D Embroidery,Leather or even the thinnest of fabrics!
Laser Hair Crosshair Marker- The laser Crosshair Marker makes it easy to position the embroidery in the correct position.
Magnetic Frames – The Magnetic Frames allows you to work with any shape of product.
Under Needle LED– The machine is fitted with an Under Needle LED light which makes seeing you work easier and aids with the threading of the needle.
Networking and Bar Code Ready    – Having your machine connected to your Embroidery software greatly will greatly increase work efficiency,used in conjunction with a Bar code reader you can easily access Embroidery files ,have colour ways at your fingertips and eliminates human error .
Specifications:
Embroidery Speed Max.1200 (Stitches/minute).
Power supply – Single Phase 240v
Weight 140kg