Tajima TMBR-SC series Embroidery Machine
Get In Touch With Us Today About This Product!
*This Product Is Not Available For Online Purchase Please Contact Us To Order This Product
The next-generation Tajima features a digitally-controlled presser foot (DCP), network access, and a slim cylinder design for easier access to cover tubular products, such as sleeves and pockets. The reinforced Wide Cap Frame has enhanced the embroidery stability whereby increasing the rotational speed to 1000rpm.
The NEW  TMBR-SC series is the next-generation model with the digitally-controlled presser foot system "DCP".It features the new cubical body that gives you the ability to embroider Larger goods than ever before whilst maximizing floor space and your sales potential. The DCP is very effective for hard-to-embroider materials like leather,thick fabric,stretchy fabric and quilting and 3D Embroidery on Caps.
The DCP digitally controls the fabric pressing and can be set to its thickness so as not to over press the material causing shadows or damage. Also, by optimizing the timing of fabric pressing, the DCP can suppress the "fluttering" of the embroidery material, resulting in beautifully finished precision embroidery.
A streamline cubical frame design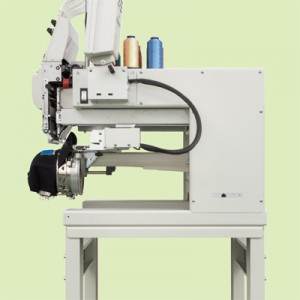 Relocating the frame drive to the upper position widens the frame operating field. Your operators can embroider without worrying about the size of the item being embroidered or the embroidery position. The new body has high rigidity and makes high quality embroidery possible with its stable frame drive. The rotary hook cover has also been made shorter to deepen the potential embroidery space.
New s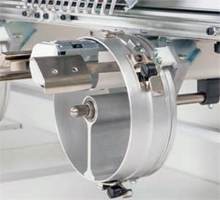 lim type cylinder
The new slim type cylinder has been reduced by 12 % in width,  which is even better for working on children's wear and smaller pockets. Together with the new reinforced Wide Cap frame, it gives the ability to run at higher speeds than previous models,

up to 1000rpm which will increase production efficiency and Quality.
FS Mode
The FS mode is best suited to loosely twisted threads as it can embroider this type of thread with high quality finish. By using the FS mode exclusive parts (sold separately) a nice lofty finish can be achieved. With the option of a Sequin Device IV you can create a wide variety of sequinned shapes, from small to large, irregular or eccentrically shaped, and much more.
Network
Embroidery data can be easily sent to the machines by connecting the embroidery software to a network. For name tag embroidery, Autograph is recommended as it simplifies the process. In addition to the DG/ML, it allows for the smoothest design data generation and transmission to the machine.

Bar Code ready
All Tajima embroidery machines have built in technology to load a design to the machine with the simple scan of a barcode.
Optional Extras include:
Needle-Base LED Lamps illuminating the needle area and with a position marker.
The air clamp makes large sized bags easy to embroider.
The Air type pocket frame is suitable for embroidering in a small space such as shirt and pant pockets, etc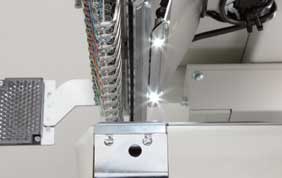 Specifications