Create expressive embroidery with precision and speed.
Intricately detailed design effects and special artistic options.
The choice for advanced digitizers with a creative side to produce unique designs
Wave Fill – Give a realistic look to plant and animal designs with this new feature.
Line Carving – Add 3D effects to designs while reducing overall stitch counts.
Radial Fill Tool – Re-position the center point of segments and watch stitches radiate outwards from that point.
Programmed Pattern Editor – Take your control to the next level by editing existing programmed patterns for your desired look and feel.
Custom Cornering – Corners can be adjusted to different corner types with a simple click of the mouse, making high quality professional results easy to achieve.
Region Carving – Create a region within a segment with different properties and patterns than the fill background.
Elastic and Turning Stitch Effects – With turning, the pattern turns along the specified angle line and with elastic, the pattern is stretched to fit the width of the column.
Fix Gap Setting – Adds stitches to the ends of branched segments that will cover areas where a gap is present.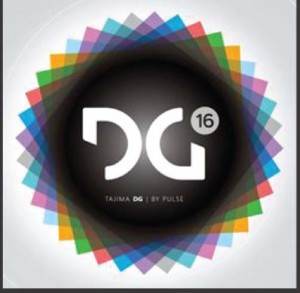 Standard Features on All Levels.
Over 180 high quality fonts with closest point connection.
Merge embroidery designs with advanced lettering and monogramming.
One design window with outlines and stitches using the powerful .pxf format.
Open and save to all popular embroidery formats.
Direct connection to Tajima, Barudan, Brother, SWF and ZSK embroidery machines.
Exclusive support for Tajima LAN-enabled embroidery machines.
Customized settings recipes for sewing on specific fabrics.
Edit designs by resizing, rotating or skewing.
Stitch by stitch editing.
Printed worksheets with barcodes and design information.
Draw Ribbon navigates a realistic simulation of stitches.
Increase production efficiency with barcoding and Design Spooler.
Multiple thread palettes that are customizable.
Exclusive access to PulseToday page.
Extensive hoop library.
Real time machine status and
Specifications
MINIMUM Recommended Computer Specifications
Tajima DG16 by Pulse is a 64-bit application and requires 64 bit Windows 10, 8.1 , 8 or Windows 7.  32-bit operating systems and older operating systems such as Windows XP and Windows Vista are not supported.
RECOMMENDED COMPUTER SPECIFICATIONS
Below is a list of the recommended computer specifications if you plan to purchase a computer for Tajima DG16  by Pulse. Increasing RAM memory and/or processor speed will improve system performance.
Please contact your distributor for more information on system requirements.
64-bit 3.0 GHz Quad Core Genuine Intel Processor
Microsoft Windows® 7 (64-bit), Windows® 8 (64-bit), Windows® 8.1 (64-bit) or Windows® 10 (64-bit)
Video Card  NVidia® GeForce® GTX 1050 Ti with 4GB GDDR5 Graphics memory (or comparable)
Monitor with 1024×768 video resolution with 16-bit color display (or higher)
CD-ROM drive
4 GB RAM
Minimum 2 GB hard disk drive space available
Mouse (three-button is preferred for digitizing)
At least one Universal Serial Bus (USB) Port
A LAN (Local Area Network) connection
Additionally, an internet connection required for access to PulseCloud services
DrawFusion feature supports CorelDRAW® X7 and Graphics Suite 2018
Machine Networking
Only DG16 provides exclusive support for Tajima LAN-enabled embroidery machines including displaying messages on the controller and setting the maximum machine speed. You can send designs to the machine without the need to manually program the needle sequence.

Why Network Your Machines?
It's faster, significantly reducing downtime between jobs
Increase productivity and efficiency
All your designs are available in one place
Secure and backup your designs
Machine frame moves to correct position automatically
Display instructions on the control panel screen
Machine speed and needle bar order set automatically from the design
Download the next design in the queue automatically
Real time production status
Analyze efficiency of operators, machines and designs
Eliminate use of Diskettes or USBs for design transfer
Barcode Scanning
Design transfer and networking is even more efficient with a barcode scanner. Implementing a barcode scanning system for loading designs will save time and reduce production errors. You can pull designs directly from a folder, or print a page with many barcodes for mass personalization projects.
More Information Coming Soon !